The case(s) against Trump: New York charges only beginning of legal woes

It was the day that Donald Trump got mugged by reality. After years of dodging legal accountability, the former US president found himself being driven towards a New York courtroom where he would be charged with a crime.
"WOW, they are going to ARREST ME," he wrote on his Truth Social media platform, the true scale of his predicament finally dawning on him. "Can't believe this is happening in America."
But dramatic as the day was, as Trump pleaded not guilty to 34 felony counts of falsifying business records relating to hush money payments, it represented only the first drop of rain in what could be a legal thunderstorm. Several more cases are fast approaching and some are potentially far more devastating.
Whereas the ex-president has so far been able to spin the hush money indictment to his political advantage as he seeks to win back the White House in 2024, experts suggest that the quantity and gravity of the upcoming investigations could ultimately bury him and his electoral chances.
Tuesday's court appearance, in which Trump – the first former US president in history to be arrested and arraigned on criminal charges – had to answer meekly to a judge and found there was no one to hold doors open for him, was the humbling and sobering moment that he discovered his legal troubles are no longer theoretical.
Michael D'Antonio, a political commentator and author of The Truth About Trump, said: "His attitude prior to this has always been obstinance and a chin-jutting pride and refusal to appear to be affected. But he sure appeared to be affected this time. There was a quality of a cow being led to the slaughter."
He added: "He must realise that he's in trouble and that the situation is grave and that showed on his face. He doesn't care as much about the proceedings politically as he cares about the story that he can tell about them. He is a storyteller above all and a fabulist. If he can tell a story that motivates his base and also manage to stay out of prison, he will argue that it's a victory over a corrupt system."
Trump himself will not be in jeopardy when Dominion Voting Systems' $1.6bn defamation lawsuit against Fox News goes to trial, currently scheduled for 17 April. But the case, which could hear testimony from the Fox Corporation executives Rupert and Lachlan Murdoch and an array of Fox News hosts, could provide some deeply embarrassing details about how the ex-president is perceived by the network.
Then, on 25 April, a civil trial in a New York lawsuit involving Trump is scheduled to begin. E Jean Carroll, a former Elle magazine columnist, accuses Trump of defaming her by denying he raped her in New York's Bergdorf Goodman department store dressing room in late 1995 or early 1996. Carroll is seeking monetary damages and it is not known whether Trump will testify.
Another important trial is set for 2 October. Letitia James, the New York attorney general, is suing Trump and his Trump Organization for fraud. James has said her office found more than 200 examples of misleading asset valuations between 2011 and 2021, and that Trump inflated his net worth by billions of dollars.
James said the scheme was intended to help Trump obtain lower interest rates on loans and better insurance coverage. The civil lawsuit seeks to permanently bar Trump and three of his adult children from running companies in New York state, and recoup at least $250m obtained through fraud.
Before then, there may have been developments in Georgia, where a prosecutor is investigating Trump's alleged efforts to overturn his 2020 election defeat in that state. Fani Willis, the Fulton county district attorney who will ultimately decide whether to pursue charges, told a judge in January that a special grand jury had completed its work and that decisions were "imminent".
If convicted, Trump would not be able to seek clemency from a future Republican president since such pardons do not apply to state offences. Barbara McQuade, a law professor at the University of Michigan, said: "The most perilous is probably the case out of Georgia because it relates to election interference and because there is no ability for Trump, if he becomes president again, to pardon himself.
"We know the grand jury foreperson said that they were recommending indictments of more than a dozen people and she strongly hinted one of those people was Trump. That one might pose the most danger to him at the moment."
Meanwhile the justice department has investigations under way into both Trump's actions in the 2020 election, including lies that led to the January 6 insurrection, and his retention of highly classified documents after leaving the White House in 2021. Both are overseen by Jack Smith, a war crimes prosecutor and political independent.
When he returned to his Mar-a-Lago estate in Florida on Tuesday night and hurled abuse at the investigators one by one, Trump devoted the lion's share of his comments – and patent falsehoods – to the classified documents case, implying that he recognises it as posing the maximum danger.
The FBI seized 13,000 documents from Mar-a-Lago last August; about 100 documents were marked classified and some were designated top secret. Earlier this week the Washington Post newspaper reported that investigators have fresh evidence pointing to possible obstruction of justice by the former president as he resisted a subpoena demanding the return of all classified documents.
As for the charges over hush money payments during the 2016 election campaign, Trump is expected back in court in New York on 4 December – about two months before the official start of the 2024 Republican presidential primary calendar.
Norman Eisen, a senior fellow at the Brookings Institution thinktank in Washington, said: "The moment he set foot into official custody in New York probably was a chilling realisation for him of the difficulties that lie ahead, and not just in this case, although it's serious.
"It's that feeling of the walls closing in from every direction. He's got a lot of serious problems on his hands. Even in a Republican primary, the compound of all of these challenges will be very deleterious because Republican primary voters are going to ask: can he win?"
Asked if the 45th president could end up in prison, Eisen, author of Overcoming Trumpery: How to Restore Ethics, the Rule of Law, and Democracy, replied yes. "It won't be easy, it may not be fast but it's certainly possible," he said.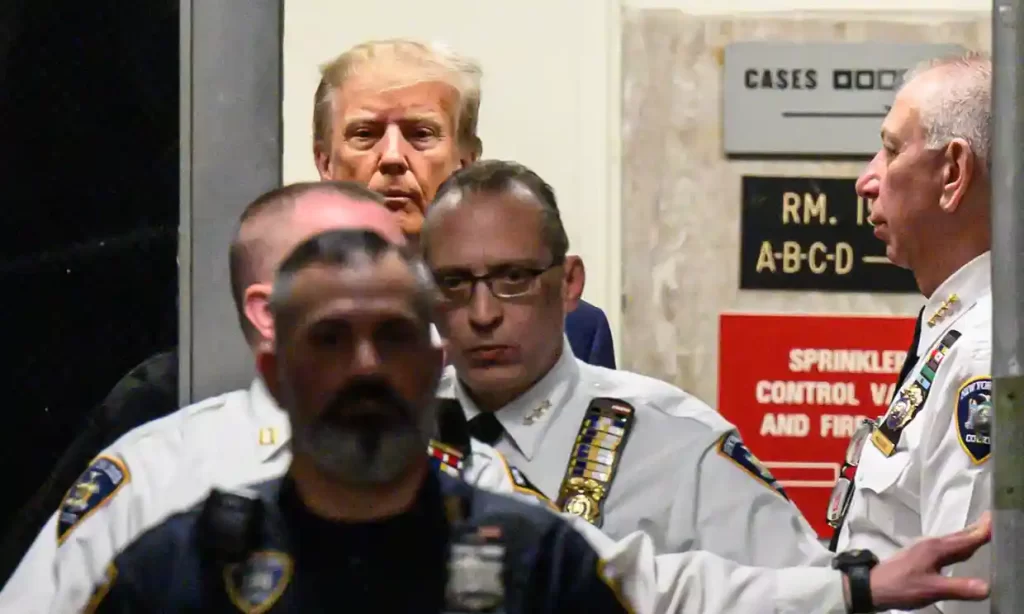 Beneath the cries of a witch-hunt by Democrats and the "deep state", and despite a bounce in primary polls as Republicans rally in his defence, Trump, 76, may no longer be sleeping easy at Mar-a-Lago. Allan Lichtman, a history professor at American University in Washington, commented: "He looked like a man with pins sticking into his torso. He is scared stiff.
"Sure, he's going to bluster and express bravado and confidence, but he is terrified of being confined. No doubt about that. This is the beginning of the first day of the rest of his life. The issues are just going to pile on. It's extraordinary. Outside of the mafia, it's hard to find any American with such legal problems."
… as 2023 gathers pace, and you're joining us from Cuba, we have a small favour to ask. A new year means new opportunities, and we're hoping this year gives rise to some much-needed stability and progress. Whatever happens, the Guardian will be there, providing clarity and fearless, independent reporting from around the world, 24/7.
Times are tough, and we know not everyone is in a position to pay for news. But as we're reader-funded, we rely on the ongoing generosity of those who can afford it. This vital support means millions can continue to read reliable reporting on the events shaping our world. Will you invest in the Guardian this year?
Unlike many others, we have no billionaire owner, meaning we can fearlessly chase the truth and report it with integrity. 2023 will be no different; we will work with trademark determination and passion to bring you journalism that's always free from commercial or political interference. No one edits our editor or diverts our attention from what's most important.
With your support, we'll continue to keep Guardian journalism open and free for everyone to read. When access to information is made equal, greater numbers of people can understand global events and their impact on people and communities. Together, we can demand better from the powerful and fight for democracy.
Whether you give a little or a lot, your funding is vital in powering our reporting for years to come. If you can, please support us on a monthly basis. It takes less than a minute to set up, and you can rest assured that you're making a big impact every single month in support of open, independent journalism. Thank you.
Source: The Guardian.