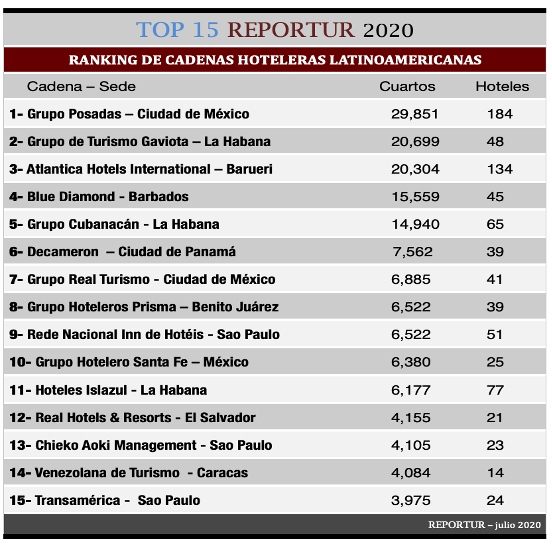 Posadas Group, Gaviota and Atlantica lead the ranking of hotel chains in Latin America from REPORTUR, whose Top fifteen complete Blue Diamond, Cubanacan, Decameron, Grupo Real Turismo, Grupo Hotelero Primsa, Grupo Hotelero Santa Fe, Islazul, Rede Inn, Real Hotels, Chieko Aoki, Venezuelan de Turismo and Transamerica, with what Cuban, Mexican and Brazilian companies dominate the list.
Grupo Posadas (Mexico) leads the ranking of Latin American chains by number of rooms with almost 30 thousand rooms, followed by the Cuban Gaviota and Atlantic Hotels (Brazil) both with more than 20 rooms, in an international ranking of Hotels of 325 hotel chains (The ranking of the 20 largest Latin American hotel chains).
As REPORTUR.mx, Posadas, the Latin leader, revealed, expands its hotel investments in the Caribbean with the aim of operating 20 establishments in the next five years especially in the Dominican Republic. Allied with los Corales Development, it has started to develop its first hotel in Punta Cana with an investment of 130 million dollars (Posadas is ambitious: it seeks to reach 20 hotels in the Caribbean)
Internationally, the ten most room chains in the world are Marriott, Jin Jiang, Oyo Rooms, Hilton, IHG, Wyndham, Accor, Choice, Huazhu and BTG. Among the most presence in Latin America and the Caribbean although with offices outside this region stand out AMResorts, with almost 24 thousand rooms in 65 hotels, or Grupo Piñero with 14 thousand in 27 hotels.
Also noteworthy are other Spanish chains such as Meliá, Barceló, Riu, Iberostar, H10, Faranda, Sirenis, Palladium, Catalonia, Princess, Globales, BlueBay, Be Live (Globalia), Playa Senator, Lopesan, Hipotels or Sandos (Atlantica, Decameron and Royal: Latin hoteliers decide to sell).
Other major Latin American chains include Hoteles City Express, by Luis Barrios; the Vidanta Group – with its mayan, Ocean Breeze and Bliss brands – by Daniel Chavez; GHL (Londoño Hotel Group), owned by Jorge Londoño, and Palace Resorts, José Chapur.
Also, Greater Caribbean; Mission Hotels, by Roberto Zapata; Stellar, by Luis Carlos Sarmiento; Las Brisas, by Antonio Cosío; Viva Wyndham, by Papo Blanco; Pueblo Bonito, by Ernesto Coppel; Dann Hotels, founded by the already well-deserved Boris Spiwak; El Cid, by Carlos Berdegué, and Amerian, by Martín Amengual. (https://www.reportur.com/mexico/2020/07/29/top-15-reportur-ranking-cadenas-hoteleras-latinoamericanas/)
(Visited 1,031 times, 1 visits today)
Last modified: 7 de August de 2020