Mexico Carries Out Operations on Its Border with Guatemala To Prevent Migrant Caravan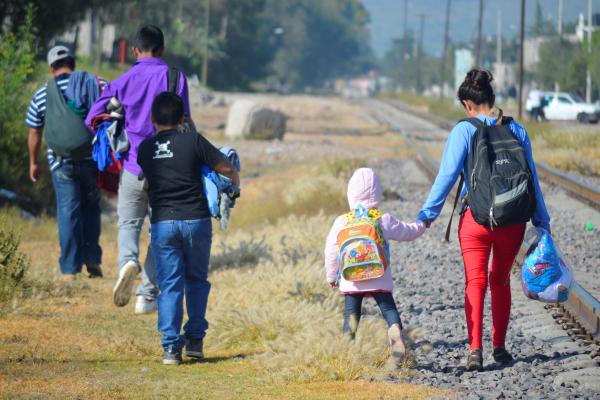 Mexican authorities closed the circulation of avenues during the early morning to look for more migrants in hotels and streets.
The Mexican National Institute of Migration (INM) carried out operations on Sunday in Tapachula, on the border with Guatemala, to prevent thousands of migrants, stationed in hotels and on the street, from leaving in a matter of hours or days in a caravan to the United States.
Aboard about eight migration vans and two units of the National Guard (GN), federal agents detained more than 30 migrants of different nationalities, whom they took from the hotel rooms in which they were staying.
In total, about four units transported 12 people each, including children and women, to transfer them to the Siglo XXI migratory station, one of the largest migratory centers in the country.
The operations occur before a caravan with between 11,000 and 15,000 migrants leaves Chiapas, a state in the southeast of the country, which would make it one of the largest contingents on record.
Mexican authorities closed the circulation of avenues during the early morning to look for more migrants in hotels and streets.
Some migrants asked for help and visas, but they did not resist.
Other foreigners who were in a hotel warned that they will not give up walking, even if they do not have the documents to transit legally in the country.
Meanwhile, in Tapachula's Bicentennial Park, migrants in a makeshift camp called for a halt to raids and operations against undocumented immigrants who remain stranded in Tapachula in search of advancing to the northern border with the United States.
Agents commented that these operations will continue in this municipality bordering Guatemala to prevent migrants from leaving in this caravan of foreigners that seeks to reach the northern border.
The situation in southern Mexico reflects that the region is experiencing a record migratory flow to the United States, whose Office of Customs and Border Protection (CBP) detected more than 1.7 million undocumented immigrants at the border with Mexico in fiscal year 2021, which ended on September 30.
Meanwhile, Mexico deported more than 114,000 foreigners in 2021, according to data from the Migration Policy Unit of the country's Ministry of the Interior.
Meanwhile, in fiscal year 2022, which began on October 1, 2021, CBP has counted more than 1 million migrants intercepted at the U.S. southern border. (https://www.prensalibre.com/internacional/mexico-realiza-operativos-en-su-frontera-con-guatemala-para-impedir-caravana-migrante/)
Source: EFE

Central American and Caribbean Digital Newspaper is the ideal way to get your advertising to potential clients or companies that may be interested in the products and services that your company or institution offers. We design your campaign adapting it to the new characteristics of the environment and with a very high efficiency.